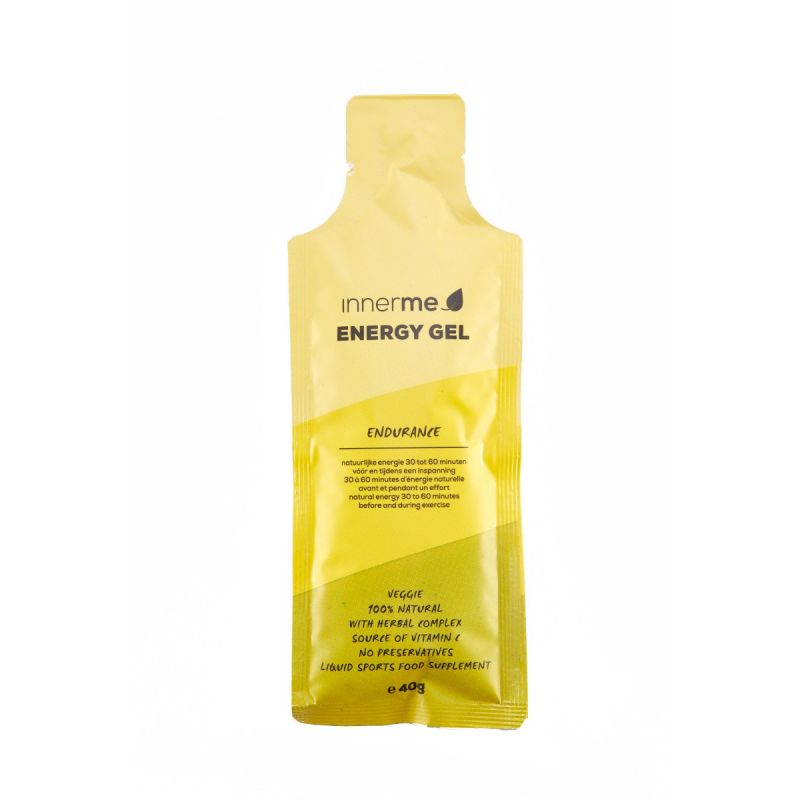 Energy gel 'Endurance' (40 g)
You need something to fuel your workout, but you'd rather not chew on an energy bar? Then you'll love this healthy energy gel. It gives you a quick yet long-lasting boost and has a herbal, slightly sweet taste. Our energy gel 'Endurance' not only contains precious carbs, but is enriched with a herbal complex with vitamin C. This sports supplement is veggie, but not vegan, because there's a bit of acacia honey in it.

Regular price
Sale price
€3,60
/
Tax included.
---
sports nutrition supplement with herbs
100% natural
fast and long-lasting energy
source of vitamin C
In stock, ready to ship

Inventory on the way
Rice syrup, royal jelly, acacia honey, mother-of-pearl powder (Pteria margaritifera).
Thickener: Xanthan gum (vegetal).
With extracts of watercress (Nasturtium officinale, radix), nettle (Urtica urens, herba), West Indian cherry (Malpighia punicifolia, fructus), ginseng (Panax ginseng, radix)1, dog rose (Rosa canina)2, Cape Aloe (Aloe ferox, sucus)3 and thoroughwax (Bupleurum chinense, radix).
Excipients: glycerine, ethanol, water.
With tincture of artichoke (Cynara scolymus, folium), hawthorn (Crataegus oxyacantha, folium/flos), milk thistle (Carduus marianus, fructus), knotweed (Polygonum aviculare, herba), dandelion (Taraxacum officinale, herba), boldo (Peumus boldus, folium), poppy (Papaver rhoeas, flos), black radish (Raphanus sativus, radix), peppermint (Mentha piperita, folium) and club moss (Lycopodium clavatum, semen).
Flavourings: peppermint (Mentha piperita), eucalyptus spiritus (Eucalyptus globulus spiritus).
Notified food supplement: PL-AS1354/50.
Our Energy Gel 'Endurance' ticks all the boxes:
It has a positive effect on your performance.
It contains ginseng, which is called a 'superfood' with good reason.
It gives you various antioxidants.
It helps regulate muscle contraction.
It delivers a wonderful flavour sensation with herbal notes.
It's 100% veggie (not 100% vegan, though, because there's acacia honey in it).
Read more about the difference between our Energy Gels 'Endurance' and Energy Gels 'Fast' Lemon here.
Do not use our energy gel if you are allergic to bee products.
Do not use in combination with interferon therapy.
Not suitable for children under 12.
Please consult your physician before using this product if you are pregnant or breastfeeding. Consult your physician or pharmacist before using this product if you are taking diabetic medication. No prolonged use without medical advice. Do not exceed the recommended daily intake. Enjoy this food supplement as part of a balanced and varied diet and a healthy lifestyle. Keep out of reach of children. Preferably keep in a dry place. Enjoy!
We recommend you use our energy gels as follows:
take 1 energy gel per hour of exercise
with a maximum of 10 gels per day
Feel free to dilute with water or Innerme Balance Drink, or to combine with 1 or 2 Innerme Energy Bars per hour.
All orders from Thursday 14h01 to Monday 14h will be delivered on Tuesday.

All orders from Monday 14h01 to Thursday 14h will be delivered on Friday.
Free shipping from €35. Express delivery (next working day) is €7,95.